Hello fellow crafters!! I'm here with you today, to share a Diamond Shaped Ornament! I love working with the Best Glue Ever and the No Clog Writing cap. If you haven't tried them, you are missing out on some awesome products.

To start off, you need a piece of cardstock cut to 3 1/2 x 8 card stock. You will score on the short side at 1/2" and 3". Then turn the card stock to the long side and score at 1/2" , 3", 5 1/2 ".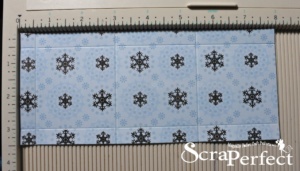 Cut away the strips as shown in the photo.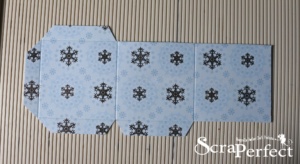 Making sure that the long side of the cardstock with the two glue tabs is on the left. You will line up the top corner so that you can score from that corner to the bottom right corner of the first square. Next you will turn the card stock and score a diagonal line in the middle square starting from the top right to the bottom left corner. Then you will score the last square from top left corner to bottom right corner. See photo.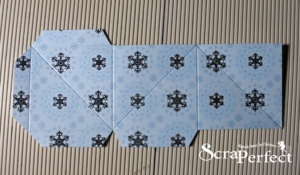 Fold all score lines. Put some ribbon for your hanger in the corner next to the 2 glue tabs. Put Best Glue Ever and the No Clog Writing cap on the one glue tab and fold and stick in place to the side that has no glue tabs. Put some Best Glue Ever and the No Clog Writing cap on the remaining tabs and fold into stick in place to the other sides with no tabs. This will form your ornament.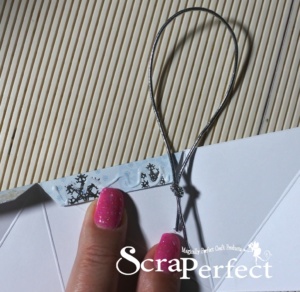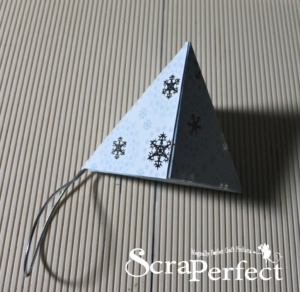 Embellish as you please. I used some of the Opal Drops Wheels of Embellies and the Embellie Gellie on one of my ornaments.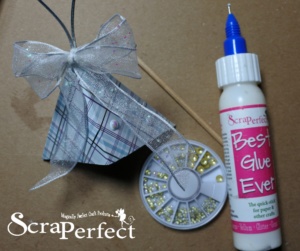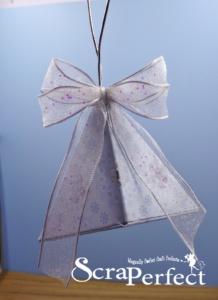 That's it for today - until next time. Happy Crafting with ScraPerfect!
ScraPerfect Products Used: